RT Tanner & Co Ltd

---
Home
next page

The history of the firm R.T Tanner & Co

---
Background of the Tanner family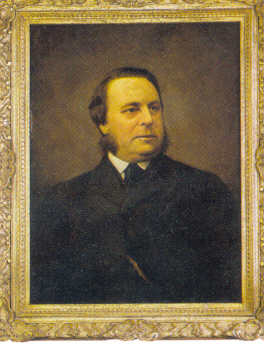 The business that was to become R.T. Tanner & Co Ltd was founded by Richard Tuppen Tanner, the youngest of eight children. His father Anthony Tanner was a gentleman farmer, and tanner, married to Mary (nee Neve). He was born in May 1825 at Wivelsfield in Sussex. The family had owned and ran the tanyards both there, and in nearby Ditchling, since the late 1600s. Two years later in June 1827 Richard's mother died and then in September 1832, when he was only seven, his father Anthony aged only 49, died as a result of a fall from his horse on Ditchling Hill whilst returning from a day in Brighton.
Four of Richard's uncles, William and Richard Tanner and Thomas and John Neve, were left as executors of his fatherís will, which was proved in June 1833 at under £3,000. Thomas Neve from Benenden in Kent, his motherís elder brother, appears subsequently to have taken over most of the administration of the estate.
The family consisting of Richard, his sisters Harriet 11, Maria 15 and brother Anthony 13, appear to have left Wivelsfield almost immediately following their father's death and went to live in London with their motherís sister Harriet Neve. His elder brother William was 19 and his two eldest sisters Mary Ann 21 and Elizabeth 20.
Little is known of the family at this time although there is a William Tanner listed paying rates on a house in Beresford Street, Lambeth in 1838/9 and then at Walnut Tree Walk, Lambeth in 1839, and it is here that the family are shown in the 1841 census. William as a 30 year old clerk, and Richard a 20 year old apprentice, with Spalding & Hodge paper merchants. It is likely that Mary Ann and Anthony had died by this date as neither appear on the census or in any subsequent legal papers regarding the family. In March 1843 Richardís sister Maria also died at 9 Walnut Tree Walk, having Ďcut her throat being at the time in a state of mental derangementí, she was buried at St. Marys Lambeth.
Until research into the Tanner family in the 1980s, Richardís middle name had always been spelt Tupper, when it was in fact Tuppen, possibly after Richard Tuppen, a surgeon at Lindfield Sussex, and reportedly a friend of Charles Dickens, who may well have been his godfather and was certainly linked to the family at the time of Richardís birth.
In 1845 his uncle and godfather, Richard Tanner of Ditchling, left him £100 which must have been a very useful addition to his salary as an apprentice at Spalding & Hodge. On 15 January that year at a Meeting of the Book Society of Spalding & Hodge held at 147 Drury Lane, H. Spalding, J. N. Lewis, W. Hubbert, W. Broom, St Shirley, Jno Shirley, V. Chard, E. Clarke, R. Anderson were present when Richard Tanner became a member. He later attended meetings on 18 April and July.
London Metropolitan Archice Ref B/SPL/42 Minute Book & cash account of the Treasurer of the Book Society - (Spalding & Hodge)

At a meeting of the Book Society on 10 January 1846 it was resolved that ĎRd Tanner be requested to address the next meeting and no excuse be receivedí, and on the 29 September he did so. A further insight in to office life at the time is highlighted when, at a meeting on October 8 l847, "A time was appointed for the changing of books, viz at 9 o'clock every morning after prayers".
The surviving records for Spalding and Hodge, held at LMA, did not reveal anything else regarding R.T.Tanner

In 1849 John Neve died at Tenterden in Kent and this event probably had a great bearing on his nephewís future plans in business. In 1811 the Tanner and the Neve families had intermarried. Richardís father Anthony married Mary Neve and his sister Ann married Maryís brother John. Sadly Ann Neve died in 1816 and it appears that under the terms of her marriage settlement, should she die without issue, on John Neve's death a proportion of his estate was to be passed back to her brother Anthony. Since he had died in 1833 this would pass to his heirs. As there were delays in reaching a settlement with John Neve's widow at the time of the census in March 1851 William was a publisherís assistant and Richard, aged 26, was a stationers assistant living at Walnut Tree Walk.
Therefore it was not until 1859 that Thomas Neve, acting for the executors of Anthony Tannerís will, had sold the Tanyard in Wivelsfield to another executor, William Tanner of Morehouse, and settlement of John Neveís will had been reached. This provided Richard, his brother and sisters, William, Elizabeth and Harriet to receive a fairly substantial legacy. This legacy was probably what allowed Richard to leave Spalding & Hodge and go into business with J Hunt, trading as Hunt & Tanner at Upper Thames Street.
next page