The history of the firm R.T Tanner& Co

---
Foundations
The foundation of the business that was to become R T Tanner & Co. commenced in 1860. There are no surviving company records prior to 1887 and what is known has been gleaned from a variety of sources. The information regarding the paper they purchased and rags they sold have all been obtained from surviving records of Hayle Mill Archive. (Reproduced by kind permission and copyright of Simon Barcham Green 2008)
Richard Tuppen Tanner having been apprenticed c.1841 left Spalding & Hodge in December 1859, to enter into partnership with John Hunt. For some there was a misunderstanding over the date trading first commenced and RT Tanner & Co celebrated it's 100th anniversary in 1963. Shortly after this event, following the death of his father, a silver cream jug came into the possession of the then chairman and managing director, Derek Tanner, on which the following was engraved:

"Presented to R T Tanner as a mark of respect and esteem by his fellow employees on leaving the House of Messrs Spalding & Hodge December 1859".
John Hunt's family had been long established in business as wholesale stationers and rag merchants at 34 and 35 Seacole, Skinner Street, Snowhill, London and from 1830 to 1845 the London Directory records John and Thos Hunt as wholesale stationers and rag merchants. From 1846-51 the listing was of John Hunt & Thos & John Jnr as stationers at the same address. In the 1851 census John Hunt jnr was listed as a merchant of alum et al. [Alum is a salt used in papermaking for its ability to control acidity and retention of additives in paper]. His father died in early 1851 and left in his will"The remainder of my property whatsoever and wheresoever not hereinbefore by me otherwise disposed of whether consisting of money stock in trade bad debts and my share and interest in the business of Wholesale Stationers Rag Merchants and Paper Makers now carried on by me in partnership with my son John Hunt and my brother Thomas Hunt under the firm of John Thomas and John Hunt or otherwise I give to my son John Hunt his heirs etc".John Hunt then probably bought his Uncle's share as he is listed from 1852-60 on his own as a wholesale stationer.
The first entry of Hunt & Tanner was recorded on 2nd January 1860 in the signature book of the Princess Street office of the Union Bank of London (later to become The National Provincial Bank and then National Westminister Bank), with John Hunt and Richard Tuppen Tanner as signatories. Richard Tanner entered another signature at the Chancery Lane Branch of the Union Bank on 3rd January 1868. Both the company and members of the Tanner family continued to bank at Chancery Lane for 120 years. The Princess Street branch recently celebrated it's 250th anniversary (RBS ref: NW/B415/5/3), the Chancery Lane branch is now a pub.
Hunt and Tanner were general wholesalers and export stationers and to be free of a livery company would have been an asset. On 28th June 1861 Richard Tuppen Tanner was admitted to the freedom of the Spectaclemakers Company and the City of London by Redemption. However from the minute books of the Company it appears that he took no active part in their affairs. It is also unclear why this partcular livery company was chosen although John Sewell, who signed his papers was Clerk of the Chambers Guildhall Law Court, and lived nearby to the Tanners in Hampstead.
The business was situated in the immediate vicinity of Fleet Street, then the heart of the printing and newsprint industry. Many years later a long standing employee noted that in the early days delivery was by horse and cart to the City in the morning and the West End in the afternoon. In what was unlikely to be a highly profitable trade customers would have been printers buying paper as well as mills requiring rags for the manufacture of paper. A document found in the 1960s recounts the working practices of this period.
What is less clear is from which address the main business was originally trading. After 1860 they are not listed in the London Directories at Seacoal Lan, the bank shows 35 Seacoale Lane crossed through and 215 Upper Thames Street below. However they were operating there until early 1861 as the following appeared in the classified advertisements in The Times on Wednesday 29th February 1860 (page 3 issue 223555A):

"Partnerships. An excellent opportunity is offered to a person of business habits who can command about £10,000 to join the advertiser in an old established printing business and taking an active part in some department of the same, the average returns of which for many years amounted to £4,000 per annum. For further particulars apply by letter only to Messrs Hunt & Tanner Wholesale Stationers, 35 Seacole Lane, Skinner Street, Snow-Hill".


Then there is a letter in the Hayle Mill archive dated 12th February 1861 to John Barcham Green
"Dear Sir
The five hundred weight duck cuttings are as near like the enclosed as possible. We have could send you them at 44/- net Messrs Day and Lonley they will not charge less than 45/- for them to a maker. If you are passing Seacole Lane perhaps you would like to see them in bulk.
Yours Truly
Hunt & Tanner
A further advertisement was listed in The Times on Thursday February 26th 1863 (issue 24492 page 16).
"To Stationers and Account Book Makers to be disposed of a bargain with immediate possession of an old established business in a leading thoroughfare: Rent £50 eight rooms apply to Messrs Hunt & Tanner 215 Upper Thames Street E.C.".

There is no evidence that Hunt & Tanner were directly connected with either of the businesses mentioned in The Times advertisements, and it is probable that they were merely allowing their Company to be used as a contact address, for which, they no doubt received payment.
With raw material supply a continual problem for mills merchants sought to supply rags, surplus from the textile industry to their suppliers. An insight into such an operation has been gained from an entry dated February 3rd 1862 in the Hayle Mill archive

"Mr J B Green Dear Sir
We will forward you the new cutting tomorrow, Tuesday, without fail and trust you will not be inconvenienced by the delay.
Yours truly
Hunt & Tanner".
Prior to John Hunt and Richard Tanner going into partnership the Hunt family were purchasing paper and supplying rags and duck cuttings to Hayle Mill, and in 1855 were charging 30/6d per cwt. After the formation of the new company Hunt & Tanner continued to do so, intially they ordered through H. Allnutt & Son when both laid foolscap and 36 lined foolscap were priced at 18/- per ream. By January 1862 they were dealing direct and from that date there are many surviving orders for paper and letters regarding the supply of rags and duck cuttings.
There is also evidence they purchased paper from Thomas Stephens & Green at Soho Mill, Woburn and Batchelors at Ford Mill, Little Chart in Kent
As can be seen by the number of bankruptcies that occurred within the paper and printing industry during this period it is obvious it could be a risky business, many companies had few assets should they be unable to meet their debts. In a memo from Hunt & Tanner to J B Green dated 12th May 1863 they wrote:
"as Trade is so bad with us we must try to get every penny we can for our Rags we must therefore charge the 48/- for the Duck Cuttings - shall we forward them".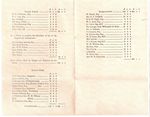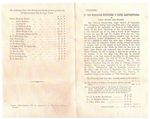 In 1866 Thomas Sweetapple, a papermaker at Cattershall Mills, Goldalming went bankrupt and a notice was circulated to "The Wholesale Stationers & Paper Manufacturers of Great Britain and Ireland" asking people to give donations to support him. According to the circular, "this was due to the depression and losses in the Trade caused by the fiscal alterations of the Government". Hunt and Tanner donated 13.10.0d to his support. However in a letter dated 25th August 1862 written by Alf Smith of 237 Gresham Street E.C. to John Barcham Green at Hayle Mill, he says
"I enclose you as promised a sample of the paper made by Mr Sweetapple from Houghton's stuff - all flax. It has no strength - the fibre seems to be killed in the boiling process - it won't do at all. What do you think of it? It confirms the opinion you gave me of the plan - you were quite right not to adopt his process."
Perhaps poor quality paper manufacture actually caused his downfall.
In 1868 the following notice appeared in The Times Wednesday October 14th (page 3 issue 26255 ColA)
"Notice is hereby given that by Indenture dated 7 October 1868 Charles Warren Adams trading under the style or firm of Messrs Saunders Otley & Co at No.66 Brook Street, Middlesex publisher conveyed assigned & transferred all his estate credits effects and assets to Henry Lawrence 10 Little Street, Lincolns Inn-fields in the said county printer, James Berkeley Thompson of 65 Long Acre in the said county wholesale stationer and Richard Tuppen Tanner of No. 215 Upper Thames Street in the City of London wholesale stationer upon trust for the benefit of the creditors of the said Charles Warren Adams (other than Charlotte Priscella Adams who is a party to the said indenture) until such creditors have received 20s in the £ then upon trust for the said Charlotte Priscilla Adams until the debt due to her shall be satisfied; and as to the surplus (if any) upon trust for the said debtor, and that such indenture was duly executed on the day and the date thereof by the said Charles Warren Adams within 15 days from the date thereof the said indenture was duly executed by Henry Lawrence, James Berkeley Thompson and Richard Tuppen Tanner. And such execution was attested by William Godden 34 Old Jewry in said City of London solicitor and such execution by the said Henry Lawrence, James Berkeley Thompson and Richard Tuppen Tanner respectively was attested by William Frederick Tindell 18 Essex Street Strand 13 October 1868. Tilleard Son Godden & Holme 34 Old Jewry Solicitors for Charles W Adams"


After trading successfully since 1860 the following appears on 3rd August 1877:
'Notice is hereby given that the partnership subsisting between us the undersigned John Hunt and Richard Tuppen Tanner of No 222 (but formerly No 215) Upper Thames Street in the City of London wholesale and export stationers, carrying on business under the style or firm of Hunt and Tanner, was this day dissolved by mutual consent. All debts due to and owing by the said firm will be received and paid by the said John Hunt by whom the business will in future be carried on. Mr Tanner will carry on business at No.8 Dorset-buildings, Salisbury Square E.C. dated this 31st day of July 1877.
John Hunt R.T.Tanner'
[London Gazette 3rd August 1877 p. 4557]
The most likely reason for the dissolution was that both men had sons. In the 1871 census John Hunt's eldest son John was working in the business as a clerk to his father and by 1877 would have been 28. Another son Arthur, who we know from his will, was also in the business, would have been 21. Richard Tanner at that time only had one son William, who was at the time at school. The partners probably decided that the business would no longer be able to support two families. However it is equally possible there were other reasons which could be numerous.
The Hunt's continued to trade into the 20th Century. John Hunt late of 222 Upper Thames Street, City of London and Rossmore Eltham Road Kent wholsesale stationer died on 24th June 1888. Probate was granted to his widow Louise and sons John and Arthur Voce Hunt. He left £16,312.13s 3d
previous page
next page