RT Tanner & Co Ltd

---
Home
Previous page

The history of the firm R.T Tanner& Co

---
From incorporation to the outbreak of world war two
By 1908 it would appear that the structure of the partnership was no longer appropriate. On the 21st Jan the following letter appeared:
"Dear Sirs,
We have the pleasure to inform you that, for strictly family reasons, we have decided to form a Limited Company under the sytle of R.T. Tanner & Co Ltd for the purpose of carrying out our business,and henceforward the business will be conducted in the name of the Company. The Directors of the Company will be Mr W A Tanner, Mr Frank Garrett, Mr Arthur Tanner (Partners in the present firm) and Mr H S Pearsall and Mr A Eames, each of whom has been connected with the business for many years past.
The Partners will take shares in the Company for the whole of their Capital, and no Debentures will be issued for any part of the purchase money.
We are, Dear Sirs, Yours Faithfully, R.T. Tanner & Co."
Taken from the Tanners' Trade Circular February 1908
Mr G Bird was the Company Secretary, having joined the business in 1896.
In May 1908 the Company trade circular recorded a review of its product, the Pleated Postal Wrappers, in an issue the British and Colonial Printer and Stationer which said: "Everyone knows the difficulty that is experienced in removing the postal wrapper from a tightly rolled up magazine or newspaper without tearing or injuring its contents, and although several ingenious devices have from time to time been introduced to alleviate this difficulty, we have so far seen nothing that beats the new wrapper introduced by Messrs R.T.Tanner & Co Ltd. It is termed the 'Patent Pleated Wrapper', and for ease of opening it will be hard to beat, while it is so simple to manufacture that it can be sold at a moderate cost. A narrow pleat having a width of ? of an inch gives a treble thickness of wrapper at a point near to the closing end; one end of the pleat is cut to form a tab that may be easily taken between the fingers, and to open the closed wrapper it is only necessary to take hold of this tab and pull, when the pleat ears away, and the contents of the wrapper are released. There is no need to use a knife or other instrument, the use of which almost invariably damages the contents. The 'Pleated Wrapper' is a great convenience, and should meet with appreciation".
Not long after the business was restructured William Tanner died, on 14 June 1908. The following obituary appeared in the company trade circular
"Mr W.A. Tanner Born September 20th 1866 Died June 14th 1908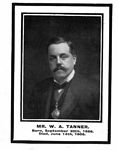 It is with very great regret and sorrow that we have to announce the death of the Chairman of our Company, Mr. W. A. Tanner, which took place very suddenly at the Pavilion Hotel, Folkestone, on the morning of Sunday, the 14th June. He went there, apparently in his usual health, on Friday of the previous week, for a three days' holiday, and we little thought, when he bade us a cheery good-bye on leaving, on Thursday, that we should never see him alive again. The sad intelligence was immediately wired to Mr Garrett and Mr. A. Tanner, who travelled at once to Folkestone, and the whole of the staff was dumbfounded on hearing the distressing news on Monday morning.
The internment took place at Caterham on June 18th, a large number of friends and employees being present to pay their last tribute of respect to one who had been universally beloved and esteemed.
To us who have known him as a friend and partner for so many years, the loss is a very great sorrow. He is also mourned by a large circle of friends, for to know Mr. Tanner was to feel that you had in him a friend in the truest sense of the word. His cheery good nature, and his ready willingness to be of use to every body, were features in his character that endeared him to all his friends, both in his private and business life. We have received hundreds of sympathetic letters testifying to his unfailing kindness, cheerfulness, and courtesy, which everyone with whom he had come in contact had experienced during the twenty-five years he had been in the business of R.T.Tanner & Co.
Although of a more or less retiring disposition, he was ever ready to lend a willing hand to any object which aimed towards the amelioration of the sufferings of his fellow creatures, or for the members of the allied trades with which he came into contact. He was a Past Master of the Horners' Company, a Liveryman of the Stationers' Company, the Treasurer of The Vellum Binders' Pension Society, and ever took the keenest interest in Masonic work, being a member of two Lodges. No matter what duty he undertook it was done with a whole-heartedness and with an enthusiasm that carried everything before it.
Mr W. A. Tanner was the eldest son of the founder of the business, and was educated at Cheltenham College. He entered the firm when about seventeen years of age, and on attaining his majority became a partner. Since that time he has taken the keenest interest in everything appertaining to the business.
His thoughtfulness for others, and his methodical and precise manner of conducting all his affairs, either public or private, is clearly shewn in his will, in which he has so disposed of his estate for the benefit of his widow and three children that the whole of his financial interest in the Company remains absolutely undisturbed, and as his executors are Mr. Frank Garrett, and his brother, Mr. A. Tanner, who are Directors of R.T.Tanner & Co., Ltd., there will be no break in the continuity of the business.
It is interesting to compare this obituary and accounts written about him by his younger brother in 1957!
On 18 February the following year Frank Garrett was made President of the Association of Wholesale Stationers. Two months later the trade circular recorded that for the immediate delivery of small orders the Company had secured cycle carriers. They were able to thread their way through the traffic of the city almost as quickly as motor conveyances, and provide a service to our many customers scattered through the Metropolis. Management were fully alive to the necessity of quick deliveries, especially to the jobbing printer, and it is for this reason to cope with demand that they inaugurated the above system of delivery.
By 1911 the Company had outgrown its premises, and obtained an additional 10,000 square feet of the neighbouring building 15 Dorset Street, which had previously been occupied by St James Gazette. The offices were transferred to this building, and the old offices in 16 Dorset Street were given over to additional stockrooms.
In January 1915 the Company suffered a severe fire which was recorded in the Trade Circular.
"Our Warehouse Fire. We regret to have to announce that a serious fire broke out last month on our premises used as warehouses, in Hutton Street. The outbreak was discovered by the police at 2a.m., so that however the fire occurred it was seven hours after our employees had left the premises that notification was made to the Fire Brigade. The whole of the top floors, including the roof, is burnt out, and the entire stocks of paper on the floors below are damaged by water. The authorities are unable, even now, to come to any satisfactory decision as to how the fire originated, but we are pleased to be able to announce that the machinery used for the manufacture of fancy cards, pleated wrappers, etc., was saved, and that we have been sufficiently fortunate to obtain new premises in the immediate vicinity wherein we have already installed the machines, so that the output therefrom is not in any way interfered with. Naturally, this unfortunate affair came as a great blow to us, especially at the time when we had large stocks waiting delivery. It is gratifying, however, to find that our friends have been very lenient to us, and that we have secured their sympathy from all parts of the country".
After the 1914—18 war Frank Anthony Garrett, the son of Frank Garrett, joined the board of directors, however he appears in the Ledgers from 1911 and may well have joined the Company even before that date. Indeed at a board meeting on 29 March 1910 he is listed as receiving shares in the Company and on 24 September 1915 he attended the ninth annual general meeting, listed as a shareholder.
In spite of the difficult trading conditions in paper and print in the early '20s the Company's position was consolidated and considerable additions were made to the machinery for the manufacture of envelopes and stationery. The Company was mainly selling paper to publishers, who were using three or four merchants on whom to place their orders in turn. This enabled them to finance their industry by keeping each merchant waiting for payment, and any pressure frequently resulted in bankruptcy and the company minutes book have many references to proceedings being implemented. In those days this was a far from lucrative trade, and as a company Tanners gradually removed themselves from it, and went into general stock holding for jobbing printers.
In 1929 the top floors of the factory in Hutton Street were burnt out, and the plant and material on the lower floors were seriously damaged by water.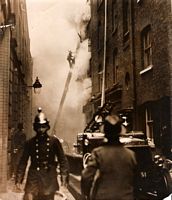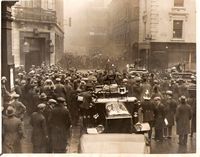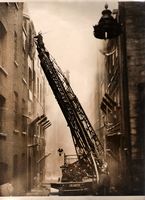 Rebuilding was put in hand and the opportunity was taken to modernise the plant, so that in the 1930s the manufacturing trade was built up, though this was mainly in envelopes, few pockets being made, and nearly all the output went to the football pools. Sales totals struggled to reach £100,000 though with paper selling mainly between £20/£30 per ton and envelopes from a few pence over two shillings a thousand, even this was not easy to attain.
In 1926 there was a general strike in the United Kingdom lasting approximately two weeks. The government and many business men did not wish to give way. To keep the country moving volunteers stepped in to run public transport. Arthur Tanner drove a train in London. Afterwards many businessmen refused to employ workers who were members of a union. R T Tanner were situated amongst newspapers of Fleet Street who were always very strongly unionised. To be a printer you had to be able to read meaning it tended to be the preserve of the best educated amongst the working class. This position was fiercely defended by workers and in later years strict demarcations were introduced by unions. The print union approached Arthur Tanner to see if he would reinstate union members. He agreed with the proviso that the Company would supply all the unions in the country with paper stationary and envelopes. They proved to be very useful customers for the next sixty years especially since they brought the labour party as a customer as well.
In later years the Company was awarded the union membership card contract by the Associated Engineering Union and the T&GWU (two of the biggest unions with over five million members). The cards were cloth lined or cloth centred, a very expensive material, so that they would last one year. Workers had to carry them at all times to prove they were paid up members.
From some notes written later in life by Derek Tanner, we learn that due to the depression his father Arthur did not consider that the Company could afford to give him employment directly he left Marlborough College, Wiltshire in July 1931, and so he completed a course in office skills, shorthand and typing etc., before commencing work with them in May 1932 - even then his salary was only £0.75p per week at the age of almost 19. His Father paid his weekly season ticket of £0.50p from Weybridge, Surrey, where he walked a mile to the station, and another mile from Waterloo to Fleet Street and back again in the evening as he could not afford a bus fare. He had an excellent 3-course lunch in a large well-known restaurant in Fleet Street most days, for in old money, one shilling and sixpence, (5½ pence) and customers were also given tokens valued two old pennies nine of which would then pay for a free lunch.
At this date the hours for the office staff were 9am to 6pm and 9am to 12 on Saturdays and by arrangement they were allowed one Saturday off per month. Statutory holidays were standard (no May-day or New Years day). Christmas Eve you finished work at 2.30 p.m. and returned as normal the day after Boxing Day, except when either of those days came on a Sunday when you were permitted to return a day later. The standard holiday was 14 days.
The factory hours were 48 per week, 8am to 6pm 5 days, and 8am to 12 on every Saturday. There was a lunch break of 1 hour and a break of 10 minutes for tea though this was not provided! The standard holidays were 14 days, but they had only just become paid. Prior to that time holidays were unpaid, and as a result many of the lower paid work force come to the warehouse as usual to sit on the steps to talk to their mates who were at work.
It all sounds hard and it was, but on the other hand everything was in relation. For instance newspapers were mainly 1d (old penny), so by picking it up at the station on every working day you only paid a fraction over £2 a year. A cup of tea was generally 2 old pennies. To give some indication of values the pay for a young envelope machine operator aged 16 was £1.60p and for a qualified operator £2 per week. A warehouseman received £3.50p per week and that was for a 48 hour week.
There were no cars provided for representatives, though one or two had old bangers of their own. There was a small Austen with a driver for the London representatives who had one day a week allocated to them. Otherwise they used the tram, bus or train. After 4 years in the office, Derek Tanner was told to go out and get some business, and was allotted a patch of South East London and part of Kent. This area had been the territory of a rep. aged 80, who had decided to retire! London was easy to cover, a tram from the embankment just by the Company's office covered most of the area, and a shilling ticket lasted the day irrespective of how many journeys were undertaken. The Country was rather different and frequently involved a great deal of shoe leather. Each County was divided into twelve areas which were visited once a month. The customers soon got to know when the representatives were likely to arrive and those that did not wish to see the rep, or owed money, were invariably out. After a year or two Derek Tanner persuaded the Company to get him a second hand car costing some £70, and was told that he had to cover the cost in one year. This made it easier for him to cover the territory more effectively but he was not permitted to use the car in London as it was considered too costly! By working hard after six years he was earning £350 per annum. About this time business envelopes 3½x6 (89x152) were selling at around 2/6d in old money (12½p) per 1000 and the very popular 9x4 (229x102) were sold at 3/6d old money (15½p). Paper was also on the same scale, woodfree was approximately £28 per tonne and coated some £35 per tonne. It needed considerable sales to reach reasonable figures and it must be realised that profits were on the same miserly scale. To do a stock turnover of around £1000 per month meant that you were a super salesman.
Top
Next page